This just in from Loveland, Colorado: Barney has been partying with Spirit Peyton's Pack!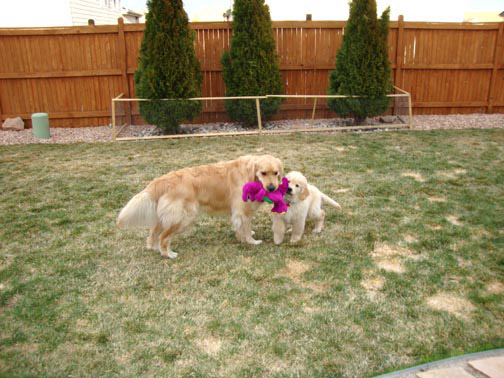 We received an exciting package from Alaska last week. To our surprise it was Barney. We were really excited to meet him and experience all the previous Tripawd hosts. He made it very hard to want to kill him. We took turns chewing on him, as well as each other.
Barney was happy to sit on the sidelines watching. The week was pretty uneventful until Saturday.
Mom and Dad took Barney on a road trip around Northern Colorado in a new MINI Cooper. Barney was excited to pose in and on all the different cars. Later we took him up towards Estes Park where Barney got to experience true Colorado weather. In the morning it was nice and sunny and in the afternoon it was cold and snowy.
While on our mountain trip Barney played in the snow, in the river, and climbed trees.
At one point we caught Barney in a BBQ pit because Rhys was curious as to what BBQ Dinosaur tasted like. We had a great adventure.
The KillBarney tour must go on because we also failed the mission. We had such high hopes that the new little guy would rip him to shreds with those sharp puppy chompers! No such luck!! Barney continues to his next Tripawd family!
— Dillon, Rhys & Spirit Peyton (And Kris & Cami)
Be sure to check out Peyton's Path soon for complete details and more photos from Barney's visit. And stay tuned to find out where Barney turns up next!