Shortly after Barney arrived at the Colorado dude ranch where he's learning the ropes from Wyatt Ray, the purple beast was whisked off to represent Tripawds at the Blog Paws 2012 Social Media Conference in Salt Lake City.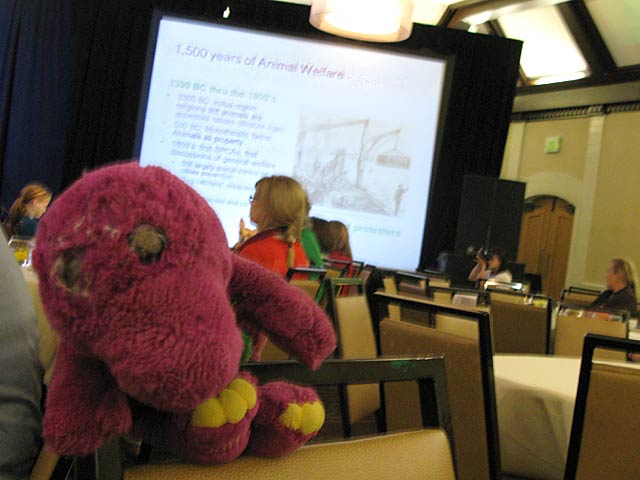 Although he didn't seem to have too much interest in seminars about things like how to build a better blog, the Purple Dino did have an exciting encounter or two and got to be the center of attention on a few occasions.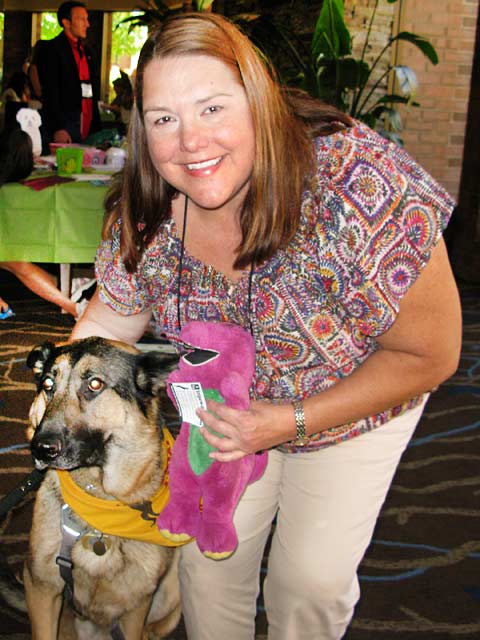 Like when he met fellow blogger and animal lover Lisa Wagner from Chicago. Lisa told us how much she was touched by the PBS documentary I was featured in, "Why We Love Cats and Dogs."
Lisa told us that my story brought tears to her eyes, and she couldn't stop thinking about us for a long, long time. It was quite a coincidence that we happened to meet fan at Blog Paws! She was so happy to meet Wyatt Ray and Barney too!
Blog Paws was a whirlwind time for the purple beast. After two long days of seminars, banquets and networking, Barney was exhausted and ready for a quiet retreat back at the ranch.
Little did he know that Wyatt Ray had other plans for him  . . .
To be continued.