Well, this isn't exactly how it's supposed to work, but Barney had such a pawsome visit with Maggie in Maine that we'll let it slide.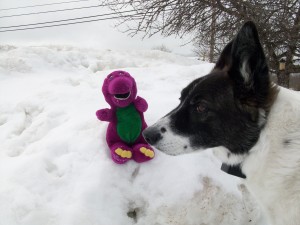 You can see Maggie's latest blog post to read all about the fun time they had at the Can Am 250 Mile Sled Dog Race, and see a video of Barney riding Maggie in the snow.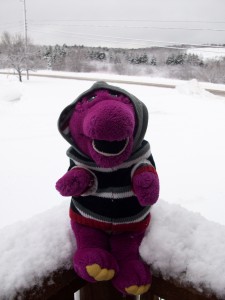 You can also find out where Barney got his new winter coat, and what the Maggies have in common!
With that said, lets recap some rules of engagement here:
The Killbarney Tour is a stealth operation
Recipients of Barney should email Jerry or a send PM to Admin with a few words about their visit along with a photo.
Killbarney will then update his Tour Map and publish a post here announcing the latest stop.
After that, members can then follow up with more details and photos in their own blog. (Non-blogging members can feel free to submit up to three photos.)
PM the member of your choice to receive Barney next to get their mailing address, and send him on his way in a timely manner.
Be sure to sign the trip journal included with Barney, and feel free to add a memento from your home town.*
The host Tripawd to draw first blood shall have his/her people mend Barney, and add a needle with  a spool of heavy duty thread to the box.
Other than that, anything goes!
Get creative with your KillBarney photo opportunities, or make a video.
Play by the rules and no one gets hurt … except maybe Barney! 🙂
*Once a few trinkets are in the box, we could treat this like a geo cache with each new host keeping an item and replacing it with something of their own. We don't want that box getting too heavy!