This just in from GerrysMom…
Whew!  Sorry this took so long folks, but Barney has been with us here this whole time, in chilly Madison, Wisconsin. And he has charmed yet another tripawd into letting him live another day (er, week).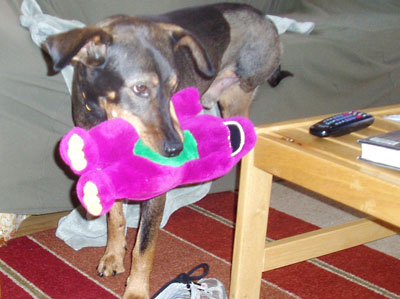 If his tour had begun a few months earlier, and Yoda had received him, well Barney would be a dino-skin rug by now, no question.  De-stuffing stuffed animals was probably Yoda's third favorite activity after chasing/catching real live animals and playing with/devouring tennis balls.  But Gerry is content simply to carry.  He ain't heavy, says Gerry, he's my Barney.
Gerry takes Barney for a walk
And so Gerry carried Barney on at least one walk per day, usually two.  He was fair and didn't ignore his other toys, but kept in mind that Barney was only on loan, so the purple dinosaur got priority play-time.  The most damage Gerry did was pull of part of an already partially pulled-off tag.  I am pleased to note that Barney was made in America.  Well done, Barney.
We have a small video tribute in honor of Barney's visit.  Our apologies that the music will probably turn out a little wobbly, as usual:
I'm afraid it was so cold here that we didn't attempt any exciting trips with our houseguest.  However, in honor of Nova, who sent us Barney, in part, because her family are fans of Madison's Great Dane Pubs, I did take Barney there for a photo op.  For Nova, I was willing to walk around with a Barney doll in public, and hold him up in the air (attracting plenty of attention) to take that photo.  I just think that should be noted…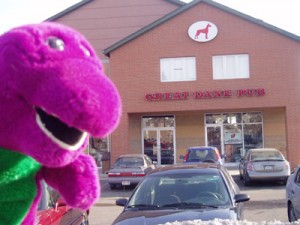 It was worth any embarrassment, however, because while outside the Great Dane Pub, I feel I received a sign regarding who shall receive it next.  If this person declines at this time, no worries, I will pretend I actually received a different sign and none of you will ever know.
Oh, I should note that swapping spit with Nova on the Barney doll caused him to have some Great Dane moments.  He sat on my lap one day after playing with Barney, and then crawled into my lap a little while later, reminding me of those adorable pictures of Puppy Nova.  So, if subsequent receivers of Barney see their tripawd start carrying shoes, or knocking things off the coffee table with their tail, or growing black spots on their tongue – no worries! – that's just Gerry's DNA rubbing off.  It's probably temporary.
Thanks for the visit Barney and dogspeed in your future travels!
~ GerrysMom & Gerry
PS: I think Spirit Yoda must have been offing hunting wabbits all week, otherwise he would have talked Gerry into de-stuffing Barney.