This just in from Tripawds member katydid:
The purple dino arrived from Buffalo this afternoon and is currently vacationing in Lakeland FL.  Katy is very pleased to have Barney as her valentine this year and promises to show him a lovely time. 🙂
I don't have any "guess where Barney is" photos yet, I'll see about taking care of that asap.  In the meantime, there's this: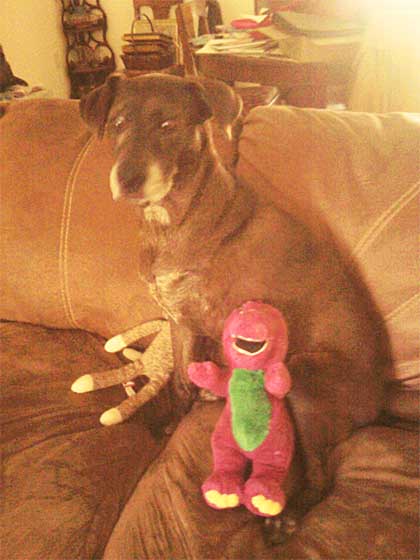 Please stay tuned to Katy's blog for complete details about Barney's visit coming soon. If you want to host Barney, be sure to let Tripawds members know in the I Want Barney forum topic.
Barney likes Florida
😮 Did you know? This is the fifth time Barney has been to Florida! Jerry first took him to Vero Beach during the cross-country adventures with his pack. And since Jerry went on to The Bridge, his Barney has visited Bo, Alexander, Wolfie and now Katy. To see everywhere Jerry's Barney has been, check out the KillBarney Tour Map!