We were just starting to wonder where the KillBarney Tour will take Jerry's little purple friend next, when we received this sweet leter from lupepod…
Greetings Spirit Jerry!
I am writing to let you know that your faithful purple friend has made it safely to Massachusetts!  He couldn't have arrived at a better time for me…it was 6 months ago last week that Lupe earned her wings and joined you and all the other tripawd warriors at the Rainbow Bridge and I have missed her so much.  I knew he was coming, Hollybeans mom told me he was on his way, but I didn't expect him today.
I had run out to the center of town to pick up movie tickets for me and friends to see a movie tonight, picked up some last minute holiday gifts (one of them is a special thank you for my brother as he was my rock through Lupe's illness) and when I got home there was a box in the entryway (I live in a house that has 3 apartments).  I saw it was for me and was from Oakland, CA.  Took me a second as I don't know anyone from Oakland, but then I realized what it was…I grabbed it and ran up the stairs giggling like a schoolgirl.  Barney had arrived!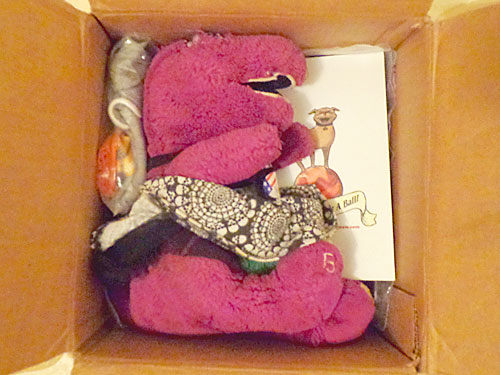 I opened the box and there he was in all of the chewed on glory.  I am so excited to go through the box and see what other tripawds have added and to read all of the stories in the journals.  Barney's adventures in MA will start tomorrow, he's going to meet Lupe's "friend" Sugar (she's a crazy monkeybutt Maltese) and he will definitely have a few things to see in the western part of the state.  When we get back he's off for his first visit of Boston and the surrounding areas.  But he's already made himself a part of Red Sox Nation.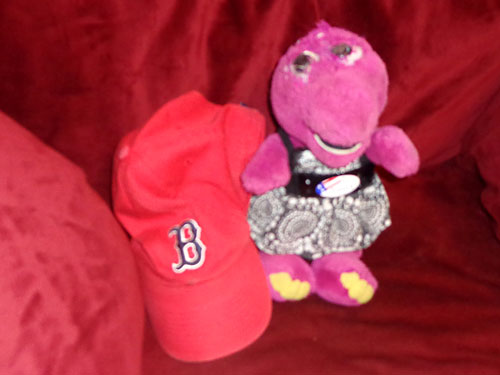 I'm so excited your pawrents and the other tripawd pawrents have kept your Barney's tour going.  While Barney won't get chewed on during his visit with me, we are going to have a great time and I know your spirit will be looking down on us wondering what he's doing…just ask Lupe she can fill you in. 🙂
Much love to you and your pawrents and Wyatt!  Here's to a great holiday season in Beantown!!!  2012 wasn't an easy year for me but having Barney here reminds me of the love and support of an amazing group of people!!!
Stay tuned to Spirit Lupe's blog for more photos and updates from Barney's Boston adventures. Check the KillBarney Tour Map to see where Barney has been, or post in the I Want Barney forum topic if you'd like to see your pup shred Barney.
Now, if only we knew where that International Barney has flown off to…