Hunter the superdog got his very own Barney for Christmas!
"We felt he earned his own and it has made him feel quite special since his monkey butt sister Hailey didn't get one."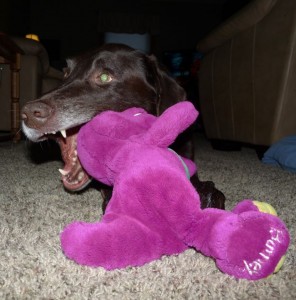 Authentic plush Barney dolls are rare. But any Tripawd will tell you, there's nothing like sinking your teeth into the real deal. Just ask any dogs who have hosted the KillBarney Tour!

Get your pup a real Barney doll on Amazon, and you'll be supporting the Tripawds community while giving him a piece of Tripawds history to chew on.
Yesh, you too can host the KillBarney Tour. Just add your name to the I Want Barney list in the forums and be sure to indicate if you are in the U.S. or overseas. That way memebrs will know which of Jerry's two traveling Barneys to send you. Stay tuned for more fun adventures from the KillBarney Tour, or check the map to see where our little purple friend has been, so far…