Big news from the Tripawds UK leg of the KillBarney Tour! This just in from sporkwoman the United Kingdom…
Barney arrived this morning to Warrington, Cheshire in cold England. He arrived just 3 days after our new and very first Tripawd Coco.

Coco joined our family after traveling all the way from Romania, is now part of our furry family that includes 3 other dogs (all girls the lucky boy), 4 cats, 2 rabbits, 2 frogs, snake and some fish.
He's going to help Coco settle into his new home and have some fun with his new family We'll keep you posted on our adventures. I've attached a video of Coco and Toki having some fun with him after he was unboxed.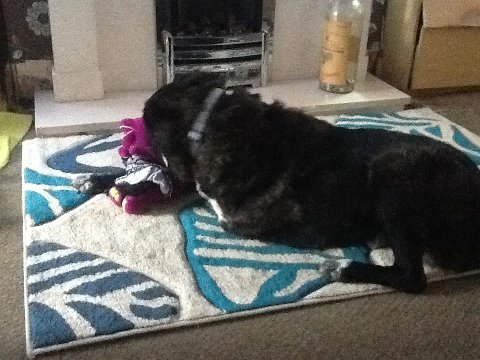 We hope to hear more about Barney's UK adventures in Coco's blog soon! If you would like to host the International KillBarney Tour, post in the I Want Barney form topic or let members know in the Tripawds UK Facebook page. To see all the places Jerry's barneys have visited around the world, check out the KillBarney Tour Map.