Since the Oaktawn Pack had a go at Jerry's little purple nemesis, we've been wondering where Barney was headed next. Then we just heard from Tripawds member abbysmom:
Barney has arrived in beautiful San Diego.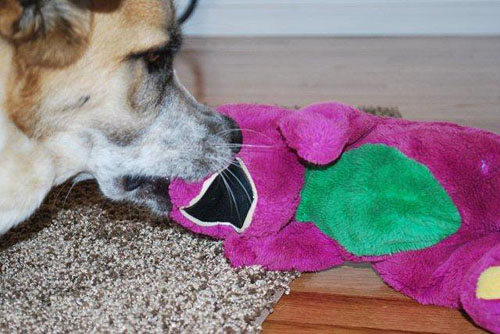 Other than a little initial nibbling from Abby, as depicted in the attached photo, Barney is more or less fully intact.
We have commenced Phase 1 of our plan to lure him into a false sense of security. He suspects nothing, but we plan to "bring the hurt" later… Muwahahahahahhahah. (That, in case you can't tell, is my evil laugh…)
Stay tuned to Abby's blog for complete details coming soon! New to Tripawds? Wonder what this KillBarney Tour is all about? Check out the map to see where Jerry's Barney has been, or read about all KillBarney Tour stops and let others know if you want to host Barney.