Well not quite…
Followers of the KillBarney Tour know by now that two of Jerry's Barney dolls are now circling the globe. Well, Domestic Barney has landed near Chicago again and this is what we heard from Cadence's mom:
Immediately when the box arrived, Cadence knew it was for her somehow. She sniffed it intently. I opened it for her and immediately she started nosing through all the items.
Right off the bat, what caught her attention were the dog biscuits in the plastic baggie. She pulled that out first, started ripping apart the plastic, then snooped inside the rest of the box. She found Barney.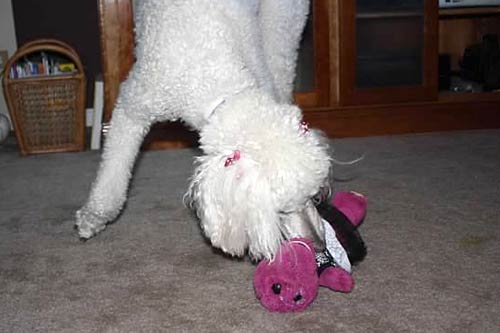 I had to take him out because she was enamored with the dog biscuits and the rest of the items in the box. When she found the Monkeybutt rabbit ears, she got really excited and wanted to try them on. I told her she was not a monkeybutt dog, but try telling her that. I gave in and took a picture.
Then, Little Brother came over and found Barney right away. Cadence tried to defend him at first, but let him have Barney, as the treats were just too attractive to turn her attention back on Barney. Barney got offended that a Tripawd would find treats were interesting than him and we found him chilling on our unfinished deck in the hot tub. We told him it does not work without water, but he seemed not to care. LOL!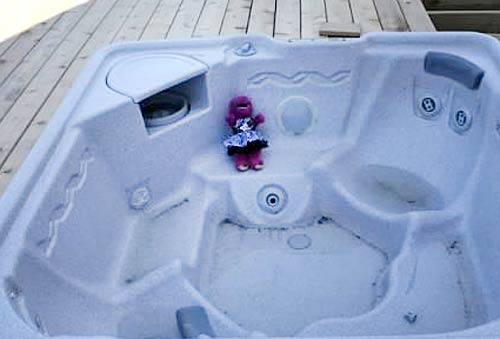 Stay tuned to Cadence's blog or the Discussion Forums for more details and photos from Barney's visit. Check the KillBarney tour Map to see other Tripawds members Barney has visited. We hope to hear where International Barney is soon!