This mysterious message just came in from the monkeycat:
I THINK I KILLED HIM!!!! WHHAAATT? Isn't that the whole point???
Has Barney ever visited a Monkeycat before?
He's just been rescued over meowing protests and hasn't had much in the way of adventure yet… It is probably going to be a few days before poor Barney has any adventures.
As it turns out, Barney's latest host has pneumonia. Hopefully she doesn't pass it on to the little purple guy because he's got places to go and Tripawds to meet! Stay tuned to the discussion forums for a delirious post from littlemanjake to find out if Barney made it out of the Windy City alive.
Until then, listen to the Tripawd Talk Radio interview about Isabelle to see if she is the kind to kill Barney, or love him.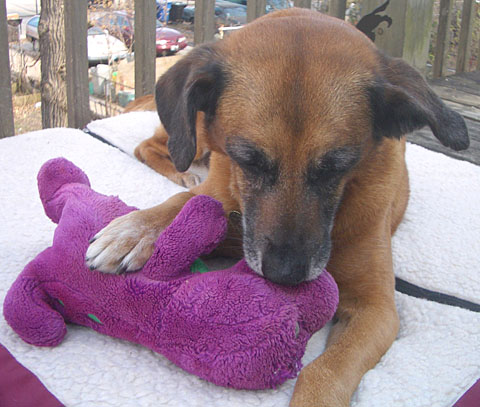 Interested in hosting Barney on one of his KillBarney Tour stops? Be sure to post in the I Want Barney forum topic to let your tripawd's intentions be known!