Barney came to visit us in Livermore, California from Gerry in Madison Wisconsin.
When Gerry's mom Bri asked us if we could entertain Barney she said she had seen a sign! While doing the Barney photo shoot outside the Great Dane Pub (Nova was before Gerry) she saw someone walking two pugs and she just knew that Maggie the pug had to be next!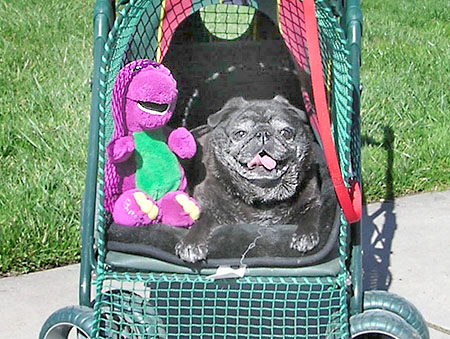 Maggie has been a little under the weather these past few weeks, not quite as energetic as usual. When Barney got here I must say she was not that excited to play with him. So Barney's visit turned into him just hanging out as part of the pug pack. I even sort of look at him as a good luck charm now. I know this goes against the whole KILLBARNEY world tour thing. But he has survived Maximutt, Caira Sue, Nova, and Gerry, not to mention THE Jerry. He has made several cross country trips and never lost his luggage!! I'm not sure I know anyone luckier than that. And I must admit that I don't harbor the Barney hatred that some have. For the people I hung out with the little purple guy you loved or hated was Prince! Maybe my attitude rubbed off on Maggie a bit.
So Barney was just one of the pugs – he slept with us at night, went to the dog park (in the stroller) even went to a couple of vet visits, although he waited in the truck – no sense picking up any germs! He visited my parent's house, where the girls spend a lot of time. He helped me do our first sub-Q liquids at home. And he brought some really nice early spring weather. I kind of hate to send Barney on his way – but he needs to get back on the real KILLBARNEY tour. Hopefully his next host is ready to rock and roll!!!
See Maggie's blog for more details and pictures, and stay tuned to find out where Barney ends up next.
Like that sweet ride of Maggie's? Check out the selection of strollers for dogs large and small in the Tripawds Gear blog!