More than three years in the making, The KillBarney Tour, Vol. I is now available in the Tripawds Bookstore!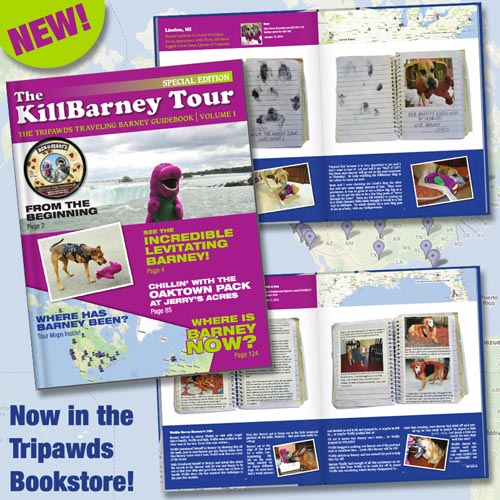 From Barney's first visit with Caira Sue in January 201o, to his time with Rizzo in June 2012, this first volume of the Tripawds Traveling Barney Guidebook reproduces the original KillBarney Tour journal in its entirety along with photos and blog entries from members describing the fun they had with their dogs while hosting Jerry's little purple friend.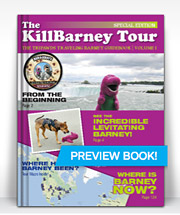 Follow the adventures of the smelly beast as he visits Tripawds members and their dogs all around the globe, spreading cheer and making trouble along the way.
From California to Maine, Florida, Alaska, England and back – and many points in between – this 128 page special edition magazine style guidebook includes maps and links to members' blogs for more details about each stop on the Killbarney Tour.
As of the publication date for this first KillBarney Tour Guidebook, the Tripawds Traveling Barney had visited the homes of 44 Tripawds members all around the world. This book documents the first 32 visits.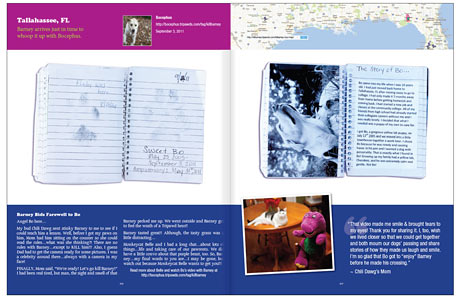 Be prepared to laugh and cry as you read the hand-written notes from Tripawds members who have had some play time with Barney and their pups. Barney visited a number of dogs just in time to say goodbye, while many others showed him a good time – making videos and taking photos at local attractions.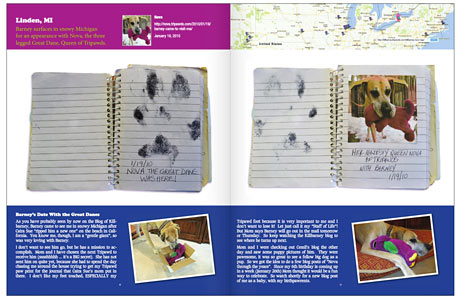 Learn about Barney's  visit with the Queen and his poop patrol duties with Gayle. Read about his his spa day with Abby and his narrow escape from the hurt locker. From lazy days with tri-pug Maggie to final days with Alexander the Great Dane, dogs of all sizes have left their smells on Barney and put their paw prints in this book.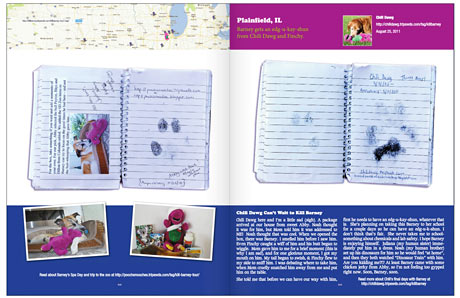 Once the original trip journal published in these pages had filled up with notes from all of Barney's previous hosts, Rizzo sent the box back to Jerry's pack. The Tripawds team then made two copies of the book, split up all the mementos, and sent two Barneys back out on the road.
Tour stops following August, 2012 will just have to wait and be documented in a future edition of KillBarney Tour Guidebook. In the meantime, you can follow along with Barney's adventures here, and check out the map to see where Barney has been or post in the I Want Barney forum to add your name to list of possible future tour hosts.
[mp_list_products tag="guidebook" order_by="id" order="DESC"]
KillBarney Blog Store Now Online!
Visit the Store page of this blog for details and pricing of all KillBarney Tour books. Purchase the printed guidebook or download the e-book and start reading in minutes! Find links to get your own plush Barney toy for your three legged friend, and stay tuned for future editions of The KillBarney Tour books.