Attention  KillBarney Fans: This just in from Holly Jolly By Golly!
We've sure been having fun with Barney here in Clarendon Hills!  Let's see… where did our adventure start?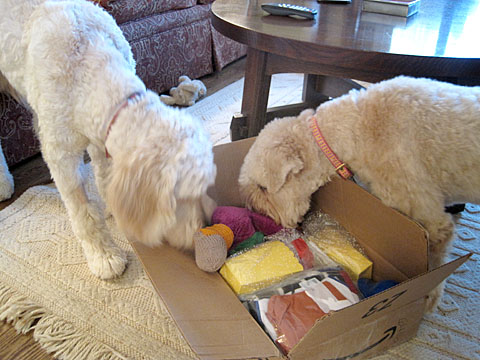 Well, both Holly and Zuzu were quite excited to help open the box… and Zuzu was the one who pulled Barney out of the package.  While on the surface it looks like Zuzu did the most damage – she continued to gnaw on his eye…(which I think Ginger had started) but was unsuccessful in making him a cyclops – in reality I think Holly did such an amazing job at scrambling Barney's brains that she did more damage overall.  Holly did the terrier thing of shaking him to within an inch of his life!  So we now think that in addition to his external scars and bruises, Barney has scrambled brains.  (check out the dumb smile he still has, though!)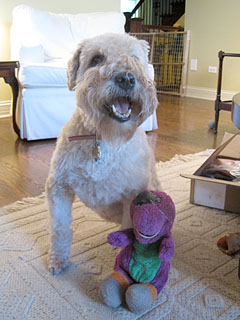 The girls took Barney outside on a nice day, and he ended up climbing into the tomato plants to escape the torture.  Unfortunately, Zuzu decided she wanted some of Gayles juju, so she ate one of the socks that Charon made for Barney.  At first I thought I could repair it, but now I think I need to knit him another one.  I'll take care of that tonight.
We took Barney to Morton Arboretum, where he got left in a maze and was heard yelling for help for miles around!
We also took him into Chicago, but the pictures from that trip didn't turn out because it was night and you couldn't see any of the landmarks in the background.  Except when he climbed onto a Chicago Tribune news dispenser. ok – I can't seem to attach the picture with the tribune thing.  🙁  Maybe my attachments got too fat!
Both girls were incredibly obsessed with Barney's feet.  They kept asking me if his feet smelled like fritos.  We're all wondering if Opie passed that along to him…And there's a picture of Zuzu and Barney eating orange stuff – the orange stuff is the pupcorn that Ginger sent to Zuzu and Holly!
As you can see, the girls had a great time with the purple beast.  But it's time to pass him along to the next lucky tripawd.
Thanks for all the fun!  Stay tuned to Holly's blog for complete details and more photos from Barney's visit…
— Holly, Zuzu and Susan
PS: As I was writing this, Barney was sitting on the kitchen table and Zuzu was whimpering for "one last time" with the purple dinosaur! 🙂