Download this e-book now to start reading all about the first 32 hosts of the KillBarney Tour in just a few minutes!
This first volume of the Tripawds Traveling Barney Guidebook reproduces the original KillBarney Tour journal in its entirety along with photos and blog entries from members describing the fun they had with their dogs while hosting Jerry's little purple friend.
The 128 page full color PDF features photos, hand-written notes, and blog entries from Tripawds members who hosted the KillBarney Tour, from January, 2010 through June, 2012.
All website links in this e-book are active hyperlinks that will direct readers to members' blogs for more details about Barney's adventures, and to view videos or see more photos of the little purple beast with his three legged friends.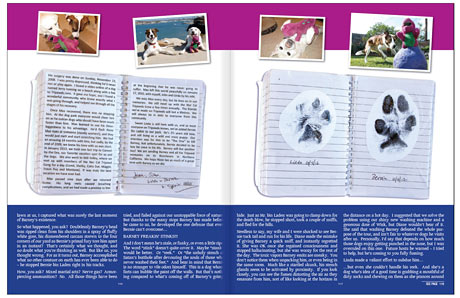 35MB PDF DOWNLOAD!
This PDF version of the first KillBarney Tour Guidebook has been optimized for printing on desktop computers or at your local copy shop. Please allow ample time for the file to download to your computer.
NOTE: Download e-book to your hard drive! PDFs will load in your browser by default and there is a limit of 10 downloads.
Please be sure to download the file to your hard drive. Web browsers may not properly display the images, and there is a limit of 10 downloads. For best results, view or print the file using Adobe Acrobat Reader.
Click the Buy Now button to download this e-book. Visit the Tripawds Bookstore to preview pages or purchase the printed book.