Follow the adventures of a certain purple dinosaur as he visits Tripawds members around the globe, spreading cheer and making trouble along the way. This first volume of the Tripawds Traveling Barney Guidebook reproduces the original KillBarney Tour journal in its entirety along with photos and blog entries from members describing the fun they had with their dogs while hosting Jerry's little purple friend.
This 128 page magazine style Guidebook features photos, hand-written notes, and blog entries from the first 32 members who hosted the KillBarney Tour, from Caira Sue in January, 2010 to Rizzo in June, 2012. Stay tuned for future editions documenting visits that followed!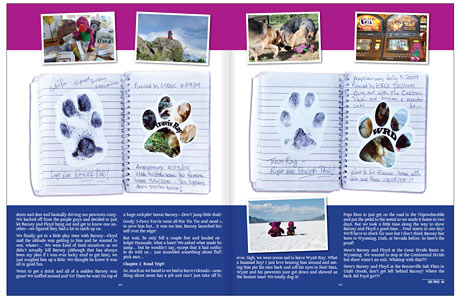 Click the Buy Now button for complete details and to preview pages in the Tripawds Bookstore. Or, download the e-book version.